Dr Éamon Lankford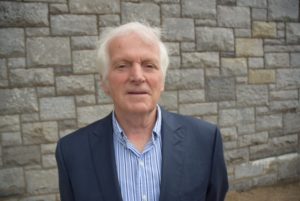 Éamon Lankford, whose parents Séamus Lankford and Siobhán Creedon -Lankford were cultural nationalists, grew up in an Irish speaking household in the north side of Cork city. He was educated at Blackpool Primary School and An Mhodh Scoil, Corcaigh and thereafter at De La Salle College, Waterford. He pursued a B.A. degree and H.Dip. in Ed. at University College Cork. He worked as Area Manager for Gael Linn in Counties Cork , and Kerry in the 1960s, organising cultural activities throughout Munster, such as Gaeltacht Scholarship programmes, Irish Language school debates, Irish courses and Slógadh competitions.
He taught Irish, Geography and History for a few years at Scoil Éanna, Grand Parade and subsequently for 33 years at Mount Mercy College, Model Farm Road.
Éamon was a cofounder/director of Áras na Díge, the Irish Language Centre at Dyke Parade, Cork. In 1981, with the late Pádraig Ó Maidín, Cork County Librarian, he set up Cape Clear Museum Society with the objective of developing a museum and heritage centre on the island. That work came to fruition in 1986 with the official opening of the centre that now houses an extensive collection of folk and maritime artefacts and is home to Cartlann Chléire / Cape Clear Island Archive – a work still in progress.
Éamon became aware of the significance of placenames as a repository of the Irish language during his early visits to Gaeltacht Corca Dhuibhne in his teenage years. From 1976 his summers were spent with his family on Cape Clear, where he soon began recording island placenames and other lore from the older islanders. The significance of this work, which continued over many years, has been recognised by NUI Maynooth who awarded Éamon a doctorate in 1996. His doctoral thesis has since been published as An Logainmníocht in Oileán Cléire (2012).
His experience with the island project heightened his awareness of the decline in the use of minor placenames and the danger of their being lost with the demise of the older generation and the reconfiguration of the landscape due to development. Having by then
established a methodology for the collection and mapping of minor placenames he extended his project to encompass the other offshore islands and the West Cork mainland. The enthusiasm he met with among the people of those areas led him to set up the Cork Place Names Survey in 1995. This project undertook the collection and mapping of the minor placenames of the entire City and County of Cork. Groups of young people on various state funded training initiatives worked on the project under Éamon's voluntary direction over 13 years. In 2008, the Cork Place Names Survey was brought to a conclusion when the former Uachtarán na hÉireann, Mary McAleese launched the 130 volume Cartlann Logainmníochta Chorcaí/ Cork Place Names Archive which was, along with some 90 archive boxes of fieldwork documentation, was then handed over to Cork County Library.
Cork City and County Archive at Séamus Murphy Building, Blackpool holds a considerable volume of material -historical, maritime, commercial, and Irish language, – salvaged and catalogued by Éamon over many years.
He has been a voluntary member of Cork County Council's Strategic Policy Committee for Arts, Culture and Languages since 2004 and has made a significant contribution to policy documents relating to the Council's placenaming policy and other cultural aspects of their work. In 2007, as a member of the policy committee he initiated and co-ordinated a collaboration between Roinn na Gaeilge, UCC Cork County Council and Radio na Gaeltachta to commemorate the Cork Irish language poet Seán Ó Riordáin. A series of eight lectures on the poet's life and work was delivered by university scholars at Cork County Hall and at An Chultúrlann, Baile Bhúirne and were broadcast by Radio na Gaeltachta. The collection was subsequently edited by Máiréad Ní Loingsigh of Roinn na Gaeilge, UCC and published by Cló Iar-Chonnachta. As part of the 1916 Rising Centenary Commemoration he organised a Remembrance Ceremony and mounted an exhibition at Cape Clear on O'Donovan Rossa's engagement with the islanders during famine times on the island in 1863. As part of the same commemoration he edited and published a collection of poems by the island poet John K. Cotter who participated in the taking ashore of guns from the Asgard in 1914.
He advanced proposals and successfully lobbied UCC's Roinn na Gaeilge to have the study of Irish placenames become a module of study for students taking Irish as a subject to degree level at University College Cork. The module is now a popular choice for second year students at the college.
Éamon has lectured throughout Cork and Kerry and internationally on the significance of collecting and mapping local placename heritage. He has had articles published in numerous journals. Among his publications are: Cape Clear Island, Its People and Landscape (1999); Naomh Ciarán, Pilgrim Islander (2000); Bealach Oidhreachta Chléire/ Cape Clear Heritage Guide (2003); Fastnet: An Charraig Aonair (2004); O Driscolls, Past and Present (2005); An Logainmníocht in Oileán Cléire (2012); Ó Charraig Aonair go Droichead Dóinneach/ From Fastnet Sound to Blackwater Bridge , Poems by John K. Cotter (2016) edited by Éamon Lankford.