Liam O'hUigin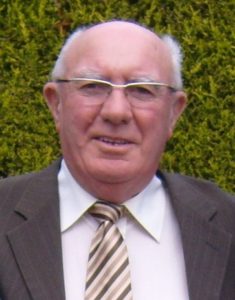 "My name is Liam O'hUigin (William Higgins) and I was born in Henry Street in the Middle Parish (Hammond's Marsh) 1941. I was baptised and celebrated my First Holy Communion and Confirmation in St. Peter and Pauls Church, Cork City.
I attended St. Josephs School on the Mardyke 1945-1954. I left school at 14 years of age with my Primary Cert and became a Messenger Boy in Musgraves in Cornmarket Street.
My mother who was born in Vicar Street, off Barrack Street died when I was a young lad so I spent a lot of my youth with my Grandmother and Aunt in that part of the City. Therefore, I grew up in the two most historical parts of Cork City: the Middle Parish and the South Parish.
As I got older I took a profound interest in the street names and laneways in Barrack Street and in the North Main Street areas. And as the saying goes you never forget the neighbourhood or the children you grew up with.
Looking back, when I think of all the wonderful times I had in the Marsh area particularly the Mardyke and the Lee Fields we spent so many glorious days there swimming, fishing, playing football, hurling and cricket and the fun we had in Piper's Merries and Fitzgerald's Park, and as we got a bit older, courting.
When I think back to those wonderful childhood days we had a charmed life; we made our own enjoyment, no Facebook, Twitter or Iphones in those days.
When I hear the song "The Banks of My old Lovely Lee" I get very emotional as it brings back so many memories.
As I got older the love and passion for the Heritage, Culture and Tradition of my dear City of Cork grew more and more as if the blood in my body became part of the River Lee. It was only then that I realised that I grew up in a City that had the most beautiful people in this world.
I went back to school in Coláiste Stiofáin Naofa to further my education when I was in my late fifties and there I was introduced to computers – what a change.
I got involved in the Cork South Parish Historical Society of which I am now the P.R.O., and I am a Committee Member of the Ballyphehane Commemoration 1916 Group.
I now give lectures and power point presentations to schools, ladies and gents retirement groups, Day Centres, nursing homes, sports clubs and anyone who is interested.
I also do walking tours and speak about the rich colourful history of our beautiful City of Cork.
I would now like to thank a few people who are helping me in this new phase of my life.
My wife Joan who must be a saint at this stage for putting up with me, my two daughters, and my two sons, who are so helpful to me with my computer problems.
My friends in Ballyphehane, Togher, C.D.P., Kieran McCarthy, Ronnie Herlihy, and Pat Kelly who knows more about world history than anyone I know.
But most of all I want to thank Richard T. Cooke for all the help and encouragement he has given me down through the years."
www.corcaigh.net – www.facebook.com/corcaighnetwork – www.twitter.com/corcaighnetwork