Cork Masons & Bricklayers Historical Society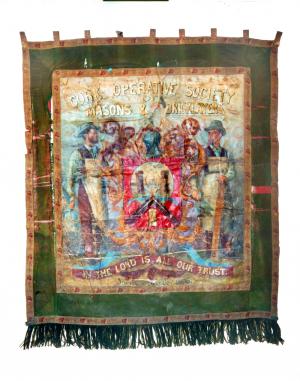 A Gurranabraher stonemason is seeking to restore a rare marching banner, which was used in Cork's Monster Meetings almost 170 years ago. For the last four years, Jim Fahy has been fundraising to restore the 10ft by 10ft banner, which belonged to the Cork Operative Society of Masons and Bricklayers, and was used in Daniel O'Connell's campaign for repeal of the Act of Union in 1843.
The bannerdepicts the Cork coat of arms on the front, flanked by two Victorian masons. On the back it shows the Old Parliament Building in Dublin, which is now the Bank of Ireland.
Mr Fahy explained that the banner was housed in the Fitzgerald Park museum for the last 30 years, but has since deteriorated.
On advice from restoration expert, Rachel Phelan, it's estimated that it will cost €30,000 to restore the historical piece, with Mr Fahy raising €14,000 to date through the Heritage Council and fundraising events. Cork City Council have now pledged €10,000 to the project, on the condition that a further €10,000 will also be raised.
And with the first phase of restoration work now underway,
Mr Fahy will be collecting at Daunt's Square on Saturday, August 20th, marking the start of Heritage Week.
Mr Fahy, whose great, great grandfather was a foreman mason on the new courthouse, highlighted that the banner is steeped in local history, with stories attached to every photograph of it.
"When the masons gathered for St Patrick's Day Parade in 1956,
the banner was on top of the truck and when they got to Brian Boru Bridge, it was too high. They had to take the banner down and then put it back up again," he said.
Cork Masons has also made a DVD of the history of the organisation, entitled Set in Stone, and have amassed old records, since donated to the archives building in Great William O'Brien Street.
"The DVD deals with the changes in the industry and also has rare footage of the old masons talking in their secret language,
Bearlager na Saor, which is now almost extinct," said Mr Fahy.
"I have also recently received a collection of poems written by a mason called Patrick Jones in the 20's who was from Kilbrogan Terrace, Bandon, which also deals with the masonry trade across the county."
Mr Fahy added that once the restoration was complete, it is hoped the banner would be displayed in City Hall.
It is also expected that Jones' poetry will be donated to
the Bandon Historical Society.
Go>to>Source: www.thecorknews.ie Friday, 5 August 2011
Cork Operative Society of Masons & Bricklayers Historical Society
E-Mail: james.fahy@hotmail.com
Building blocks laid for banner's restoration
www.thecorknews.ie Friday, 5 August 2011
Bandon Historical Society, Bearlager na Saor, Brian Boru Bridge, Cork, Cork archives, Cork City Council, Cork Coat of arms, Cork Masons, Daniel O'Connell, Daunt's Square, Fitzgerald Park Museum, Historical, Parliament Building in Dublin, Set in Stone, St Patrick's Day Parade, the Heritage Council, Victorian masons