Billy Murphy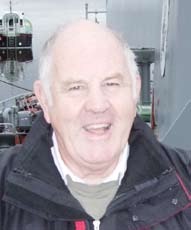 The Lord Mayor and County Mayor of Cork, presents to Billy Murphy in grateful appreciation for his lifetime promotion of the History, Heritage and Culture of Cork on the occasion of Celebrating Cork Past local history exhibition.
Billy Murphy Born in 1940, entered the FCA service at 18years, then he joined The Royal Marines and was sent to Deal in Kent. After 12 months training Billy passed out as a Marine Commando in 1958. His First commission was in Malta, a British Base. His First ship was (LST) a Landing Ship Tank called HMS Striker. He Left Malta for Aden because Iraq was volatile due to the rise of Saddam Hussein.
Bahrain was his host port for 18months. He Returned to UK to the Depot in Deal.
Billy joined the 4-1 Commando in Bickleigh in Devon.
The Tanzanian army mutinied and 4-1 Commando was sent in to quell the mutiny, based on an airfield in Tabor-a, the mutiny ended after 3 Months. Billy Returned to the UK, and went touring for 12 months recruiting for the Royal Marines. After which he was sent to Malaysia and stayed until the trouble ended with Sarawak defeated in his efforts to claim all of Borneo.
Billy returned to Cork, retired from the army, and joined the airport police for 27 years.
Billy researched, investigated and compiled with the late Michael Holland Curator in UCC over 40 names of lectures, professors students and general staff.
He has a vast knowledge of so many individuals of WW1 VICTIMS from UCC. On WW1 itself and Cork Sportsman who participated in WW1. Billy assisted in the project of putting into place a lovely memorial of WW1 from the Middleton area.